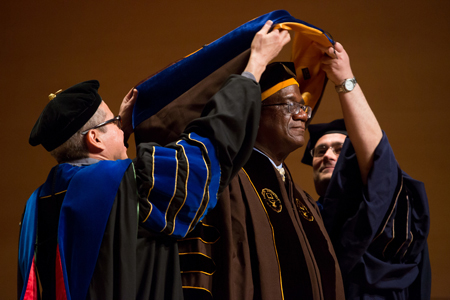 Adelphi's Ph.D. program prepares students to take the lead in academia, social services and the nonprofit world, and to never stop asking questions.
Ask Philip Rozario, Ph.D., director of the Adelphi School of Social Work doctoral program, what this advanced degree is about, and he'll give you an answer that's about questions.
To clarify: Dr. Rozario obtained his bachelor's degree in social work and sociology, then his M.S.W. But he felt there was more he needed to know. "As social workers, we're faced with challenging problems," he said. "At first I wanted answers, but over the years I've come to appreciate the questions for the fact they open you to new possibilities and a better understanding of what we don't know."
Damyn Kelly '83, J.D., and current Ph.D. candidate, can relate. Although Kelly has worked in politics and human services for several years, now serving as executive director of Newark Emergency Services for Families, he found he still had questions. "Why is poverty so prevalent in our country? What role does human services play in promoting or eradicating poverty and inequality?" he offered as examples. Adelphi's doctoral program "has challenged me to think critically, to explore the hidden issues."
Adelphi's social work doctoral program has been in place for more than 40 years, and in that time more than 200 men and women have graduated from Adelphi's School of Social Work with doctorates in hand. Dr. Rozario said doctoral hopefuls appreciate the full- and part-time program options that "maintain rigor and standards while accommodating students who want to forward their careers without taking time off from work and life demands." Courses provide a broad, well-rounded perspective, from the history of social work, to statistics, to program evaluation, to policy.
After completing required course work, students focus on their dissertations. "We are flexible in terms of the topic students want to research and the methods of inquiry, which can be qualitative or quantitative," Dr. Rozario explained. He advises students to choose a subject they're passionate about to sustain them throughout what can be "a long and arduous process."
Students and alumni appreciate the personal attention and open-door policy of faculty. "There's a sense that faculty aren't here just to teach you but to work with you and help you accomplish your goals," Kelly said.
About Adelphi: A modern metropolitan university with a personalized approach to higher learning.
Adelphi University is a highly awarded, nationally ranked, powerfully connected doctoral research university offering exceptional liberal arts and sciences programs and professional training with particular strength in its Core Four—Arts and Humanities, STEM and Social Sciences, the Business and Education Professions, and Health and Wellness. Adelphi is dedicated to transforming students' lives through small classes, hands-on learning and innovative ways to support student success.
Founded in Brooklyn in 1896, Adelphi is Long Island's oldest private coeducational university. Today Adelphi serves nearly 8,000 students at its beautiful main campus in Garden City, New York—just 23 miles from New York City's cultural and internship opportunities—and at dynamic learning hubs in Manhattan, the Hudson Valley and Suffolk County, and online.
More than 100,000 Adelphi graduates have gained the skills to thrive professionally as active, caring citizens, making their mark on the University, their communities and the world.