by Jordan Chapman
Michael Sherraden, Ph.D., winner of the 2015 Richard Lodge Prize and one of Time magazine's Most Influential People in the World, addresses a sold-out crowd at Alumni and Friends Day.
"I think the idea of renewing practice, renewing knowledge and creating innovations requires a creative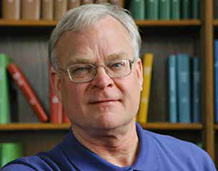 response to conditions when they're not going well," said Michael Sherraden, Ph.D., recipient and winner of the 2015 Richard Lodge Prize at the Adelphi University School of Social Work annual Alumni and Friends Day.
Dr. Sherraden touched on a number of topics during his keynote address, including ideas on current governmental spending and the need to concentrate more funds on the younger generations via universal accounts. Most of all, though, he encouraged all in attendance to keep at their ideas for change and to be sure those ideas deal with problems society is facing today.
"Social work needs to be embedded in the world," Dr. Sherraden said. If new social innovation is to occur, then research and policy making must be derived from evidence-based practices that have "one foot strongly grounded in the world," he continued.
Conducting everyday social work practice entails constant learning, Dr. Sherraden explained, which leads to ideas of how certain practices could be improved. "The nature of social practice and social work is a constant process of renewal and innovation," he said. He encouraged experienced and nonexperienced social workers alike to continue developing and promoting new ideas despite adversity. "If we're good at it, then we learn systematically. We continue to do better."
In 2010, Time magazine recognized Dr. Sherraden's work by naming him one of their 100 Most influential People in the World. He shared space on the list with former President Bill Clinton; Edna Foa, Ph.D.; Steve Jobs; graffiti artist Banksy; musicians Elton John, Prince and Lady Gaga; and President Barack Obama, among others. The magazine noted Dr. Sherraden's groundbreaking work on the vital role of assets—not just income—in overcoming poverty. In other words, without savings accounts, insurance and the means to protect what one has earned, low- to moderate-income people worldwide will not have the ability to weather economic downturns.
» More on Dr. Sherraden and to watch a video of his keynote
This article appeared in 
Impact, the School of Social Work Newsletter
.