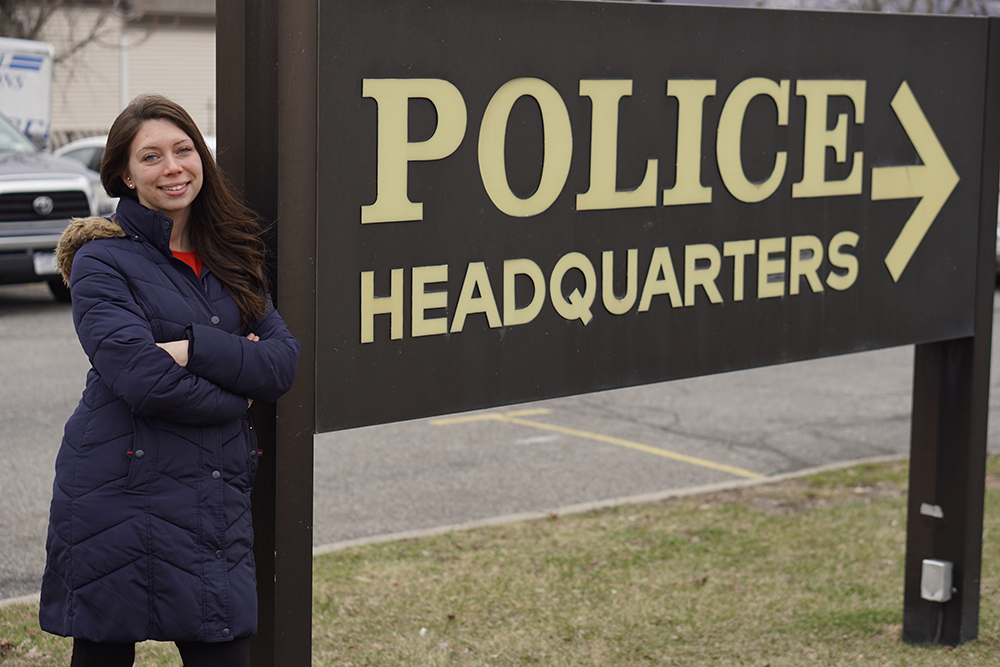 Adelphi is committed to having a positive and powerful impact on local communities, and one place where that commitment is being strongly felt is Newburgh, New York, a city about 20 miles from the University's Hudson Valley Center in Poughkeepsie. It's there that graduate students from the center's social work program are interning with TEAM Newburgh, a collaborative of around 75 community organizations working to address some of the most challenging problems facing the city. The internships are not only benefiting the community—they are also providing Adelphi students with invaluable career experience.
"My internship has been so inspiring," said Cristin Sauter, who will receive her Master of Social Work in May. "I've been given lots of independence, which has increased my ability to solve problems on my own and present ideas with confidence. It's helping me become a leader."
Sauter's internship is just one result of efforts by the center's director, Ohiro Oni-Eseleh, to base the social work program on community engagement. He has forged relationships with local governments, service agencies and grassroots organizations throughout the Hudson Valley, helping develop policies and providing the boots on the ground needed to carry them out. Interns from both of the center's campuses, Poughkeepsie and Middletown, spend at least 300 hours each semester on field work.
Like many of the center's internships, Sauter's work in Newburgh involves micro and macro elements. On the micro, or clinical level, she provides crisis intervention services to the City of Newburgh Police Department, accompanying officers on the beat to help reduce tensions in stressful situations, offer service referrals and build stronger relationships between community members and law enforcement.
Intent on making a difference, she proposed a pilot program seeking evaluation of her performance by officers as well as civilians. The program has been accepted by the Newburgh Police Department.
On the macro level, which involves interventions that affect thousands of people across entire communities, Sauter is working with the New York National Guard and the Hudson Valley Regional Emergency Medical Services Council to combat the opioid epidemic. Her role is to analyze a large data set collected over the past six years detailing each of the 6,000 times medical workers in Orange, Ulster and Dutchess counties have administered the drug Narcan to revive overdose victims.
She is tracking the typical dates, times and locations of overdoses, helping police departments and hospitals predict problems, prepare for interventions and maintain adequate supplies of Narcan. She's also supplementing her statistical analysis with testimony from overdose victims and medical workers, collecting stories of drug users whose lives were saved and who now, given a second chance, have built positive relationships with their families.
"TEAM Newburgh has shown me there are so many ways social work can be utilized," Sauter said. "It's immersed me in the city and given me the opportunity to see how collaborative effort can help meet community needs."
Sauter isn't the only Adelphi intern at work in Newburgh. The Hudson Valley Center has also placed social work students in the emergency room of St. Luke's Cornwall Hospital, which frequently treats overdose victims, many of whom then return after another overdose. The student interns are part of a concerted effort to guide more patients into drug treatment. The students interview the overdose victims to assess the psychological and social strains affecting them, hoping not only to better understand the underlying issues but to gain the trust needed to provide effective counseling.
Sauter's work at Adelphi has not only prepared her for her career, it's shown her where she wants to begin it. "I've become really invested in Newburgh—it's a place I identify with," she said. "I plan to stay here. And if I ever go somewhere else, I'll want to help build something like TEAM Newburgh. It's a model that really works."
About Adelphi: A modern metropolitan university with a personalized approach to higher learning.
Adelphi University is a highly awarded, nationally ranked, powerfully connected doctoral research university offering exceptional liberal arts and sciences programs and professional training with particular strength in its Core Four—Arts and Humanities, STEM and Social Sciences, the Business and Education Professions, and Health and Wellness. Adelphi is dedicated to transforming students' lives through small classes, hands-on learning and innovative ways to support student success.
Founded in Brooklyn in 1896, Adelphi is Long Island's oldest private coeducational university. Today Adelphi serves nearly 8,000 students at its beautiful main campus in Garden City, New York—just 23 miles from New York City's cultural and internship opportunities—and at dynamic learning hubs in Manhattan, the Hudson Valley and Suffolk County, and online.
More than 100,000 Adelphi graduates have gained the skills to thrive professionally as active, caring citizens, making their mark on the University, their communities and the world.