Ph.D. in Social Work Program
Assume a leadership role with our Ph.D. program in social work.
The Adelphi University School of Social Work Ph.D. program expands your capacities to conceptualize, develop, evaluate and disseminate knowledge of the problems that impact the human condition—and strategies designed to change those conditions. In becoming social work scholars, you must develop a critical and sophisticated understanding of the historical, global, national and community forces that shape contemporary human experience and social work practice. The Adelphi doctorate in Social Work curriculum is grounded in an evolving knowledge base, and fosters the critical thinking that will prepare you for leadership in the development of knowledge for all levels of social work practice.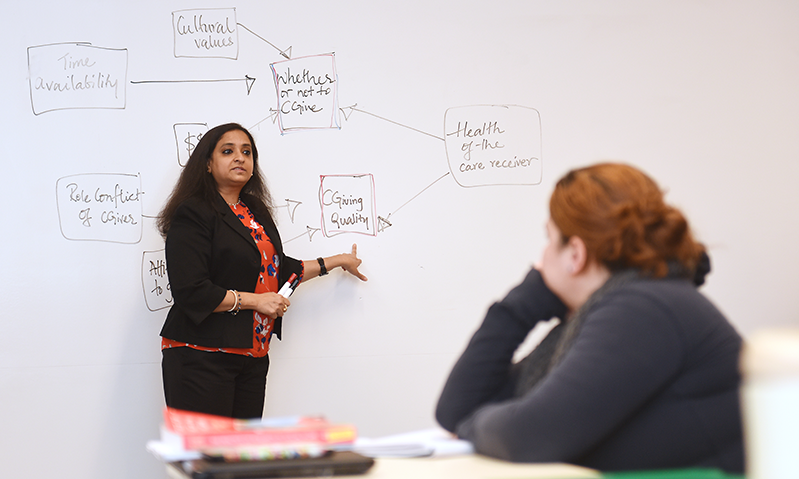 ---
Organization and Structure of the Ph.D. in Social Work Program
The Ph.D. in Social Work program accommodates your continued work as a social work professional during your course of study. To obtain the doctoral degree, you must complete the 48-credit curriculum with at least a 3.3 GPA and successfully defend a dissertation that is the product of original, independent research.
The Ph.D. in Social Work program offers part- and full-time options. In the part-time option, you will take:
48 credits one afternoon and evening a week for 8 semesters (two courses per semester)
Once you've completed the first two years of study with a minimum 3.3 GPA, you are eligible to take qualifying examinations based on the first two years (8 courses and 24 credits) of course work. If you pass all four examinations, you may proceed with the remaining 8 courses and with the development of a proposal for your dissertation.
In the full-time option you will take four courses a semester two days a week—also in the late afternoon and early evening. You're eligible to take the qualifying examinations after the first year of study if you've completed 8 courses and 24 credits with at least a 3.3 GPA. After passing the qualifying examinations, you will take:
48 credits two afternoons and evenings a week for four semesters (four courses per semester)
Dissertation advisement may begin while you're enrolled in courses. For advisement after completion of your course work:
Enroll in SWK 895, Continuing Matriculation with Dissertation Advisement for a maximum of six semesters
For semesters when you're not receiving advisement, you must enroll in SWK 896, Continuing Matriculation without Advisement.
Within two years of the completion of their course work, students in both full- and part-time Ph.D. social work programs must have an accepted dissertation proposal. They have 10 years from the date of matriculation to complete and successfully defend a dissertation.
» View Ph.D. in Social Work curriculum details and degree requirements
The deadline for admission is April 15

.
The program offers fall admission only. Applications received after this date will be reviewed on a case-by-case basis.
Checklist of required documents for application to the Ph.D. Program:

One four-page Essay or Personal Statement (The essay or statement should address the following points):

educational background and professional experience, to support your application
substantive areas of interest for research, evaluation and/or teaching
past educational and career experiences to prepare you for your specialization
career plans, including how a doctorate in social work supports the achievement of these goals.)

Three letters of recommendation that, among other things, addresses the applicant's academic abilities. 
One updated curriculum vitae.
One writing sample that showcases the applicant's academic/scholarly writing skill and style.
One completed application form.
Official transcripts from all tertiary academic institutions that the applicant attended. 
A cover letter. Additional information from applicants with degrees from non-Native English speaking countries.
Official TOEFL score of 80 or higher OR IELTS score of 6.5 of higher (international applicants only).
» View admissions requirements for the Ph.D. in Social Work program
» Download the Doctoral Student Handbook for Social Work