Online M.S.W. Program
Benefit from in-person instruction and the freedom to complete coursework online.
Adelphi's School of Social Work has long been on the forefront of making education accessible to students with work and family responsibilities. Our online M.S.W. program is a low-residency, innovative and user-friendly alternative to distance-learning degree programs and traditional on-campus classes, and even blended programs that combine the two.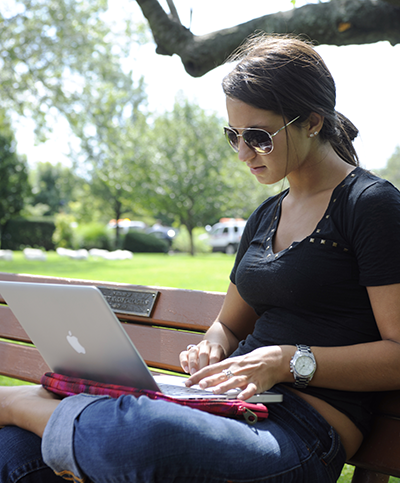 We designed this program to offer you the best of both worlds. You'll have the convenience of completing your coursework online, on your own time, while balancing work and family responsibilities. And you'll benefit from receiving individualized, in-person instruction from our dedicated faculty while connecting with your fellow students.
Rather than attending classes on a weekly or even monthly basis, you and your cohort will participate in 2-6 days of intensive course instruction twice per year on campus (in January and August). You will also develop your practice skills through employment-based field placement, or we'll work with you to find a fieldwork position through our network of partnering facilities. We have community partners throughout the New York metropolitan region that will provide you with an enriching professional experience in the field of your choice at a convenient location.
You'll graduate ready to advance in your field and enhance your professional practice.
» Explore the online M.S.W. plan of study
Ready to become a student of our highly ranked M.S.W. program?
Spring 2017 Cohort
Campus Visits/Residency Dates
January 15-24, 2017
August 18-26, 2017
January 15-21, 2018
August 19-27, 2018
January 18-27, 2019
Fall 2017 Cohort
Campus Visits/Residency Dates
August 23-28, 2017
January 17-21, 2018
August 24-26, 2018
January 25-27, 2019
August 23-25, 2019
January 22-26, 2020
Spring 2018 Cohort
Campus Visits/Residency Dates
January 17-22, 2018
August 22-26, 2018
January 25-27, 2019
August 23-25, 2019
January 22-26, 2020
Fall 2018 Cohort
Campus Visits/Residency Dates
August 23-26, 2018
January 17-20, 2019
August 23-25, 2019 
January 24-26, 2020
August 20-23, 2020
Spring 2019 Cohort
Campus Visits/Residency Dates
January 17-20, 2019  
August 22-25, 2019
January 24-26, 2020
August 21-23, 2020
January 22-24, 2021
August 26-29, 2021